Posts for tag: gum disease
By Peach Family Dental Group
February 03, 2019
Like other aspects of our lives, aging can take a toll on our smile. Over a lifetime the effects of disease, teeth wearing and the foods we eat can cause our teeth and gums to look unattractive.
Here are 3 of the most common age-related dental problems and how we can help you "turn back the clock" on each one.
Discoloration. Teeth can dull and grow darker over time. And not just from what we eat or drink—age-related structural changes in the tooth can also cause discoloration. We can often alleviate external staining temporarily with teeth whitening. If the staining is heavy or it originates inside the tooth, then we can install life-like porcelain veneers or crowns to cover the discoloration. We can also use composite dental materials to alter the color of one darkened tooth so that it doesn't stand out from the rest of your teeth.
Wearing. Our teeth naturally wear down over time. If the wearing is excessive, though, teeth can look shorter and less youthful. Again, we can use veneers or crowns to change a tooth's outward appearance and make them look longer. We can also employ enamel contouring and reshaping that smoothes out sharper edges caused by wearing to give your teeth a softer, more youthful look.
Receding gums. On the other end of the spectrum, gums that have shrunk back or receded from the teeth can make them look much larger and unattractive. Our first step is to treat any gum disease present—the most common cause of recession—which often helps the tissues to regenerate. If your case is more advanced, though, you may also need grafting surgery to restore lost gum tissue. Using in-depth microsurgical techniques, surgeons attach grafted gum tissue at the recession site. Over time new tissue will grow, restoring adequate gum coverage.
You can also improve your appearance at any age with orthodontics. Besides a more attractive smile, properly aligned teeth tend to wear more slowly and evenly. This and proper daily oral hygiene and regular dental care can keep your teeth looking younger even in your later years.
If you would like more information on gaining a more youthful smile, please contact us or schedule an appointment for a consultation. You can also learn more about this topic by reading the Dear Doctor magazine article "How Your Dentist can help you Look Younger."
By Peach Family Dental Group
November 25, 2018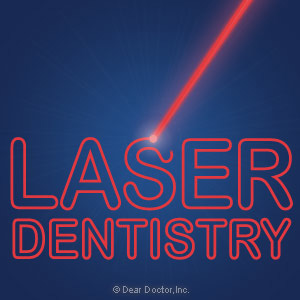 We've developed a number of effective treatments for periodontal (gum) disease. Depending on how far and deep a patient's infection has advanced, treatment can be quite invasive and even require surgery. The more invasive, the longer and more uncomfortable the healing process can be.
But using a medical laser could make that less so. Although its use for gum disease treatment is still in its infancy, the latest observations from the field seem to show patients undergoing laser treatment may have less tissue trauma and bleeding, less discomfort after the procedure and quicker healing times.
Gum disease is a bacterial infection mostly caused by dental plaque, a thin film of food particles that build up on teeth in the absence of effective oral hygiene. The infection can advance deep below the gum line, weakening gum attachment to teeth and destroying supporting bone. Ultimately the affected teeth can be lost.
Traditionally, the only way to stop the disease is to manually remove plaque buildup on teeth and gum surfaces, which is continuing to sustain the infection, with special hand instruments called scalers or ultrasonic equipment. Because it's important to remove as much plaque and diseased tissue as possible, we may need to perform a surgical procedure called flap surgery to move some of the gum tissues out of the way to get to these deeper areas. As with any surgery, this can create tissue trauma that may cause discomfort during the healing process.
Our new alternative is to use an Nd:YAG medical laser in a procedure known as Laser Assisted New Attachment Procedure or LANAP. With light energy delivered through a small fiber no more than the width of three human hairs, the laser can pinpoint diseased tissue and destroy bacteria through intense heat. Because of the laser beam's tiny width and pulsing action, healthy tissue is at less risk for trauma than with the traditional treatment.
Coupled with other techniques, LANAP procedures could remove as much infected tissue and plaque as traditional methods, but with less healthy tissue trauma. In the future, then, patients with advanced gum disease undergoing laser treatment could have less bleeding and discomfort and faster healing times.
If you would like more information on treating gum disease, please contact us or schedule an appointment for a consultation. You can also learn more about this topic by reading the Dear Doctor magazine article "Treating Gum Disease with Lasers."
By Peach Family Dental Group
May 29, 2018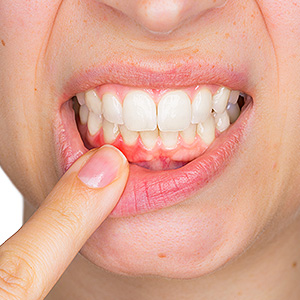 If you think gum disease only happens to the other guy (or gal), think again. If you're over 30 you have a 50-50 chance for an infection. After 65 the risk climbs to 70 percent.
Fortunately, we can effectively treat most cases of gum disease. But depending on its severity, treatment can involve numerous intensive sessions and possible surgery to bring the disease under control. So, why not prevent gum disease before it happens?
First, though, let's look at how gum disease most often begins—with dental plaque, a thin film of bacteria and food particles built up on teeth and gum surfaces. If plaque isn't consistently removed through daily brushing and flossing, it doesn't take long—just a few days—for the bacteria to infect the gums.
While it's not always easy to detect gum disease early on, there are signs to look for like red, swollen and tender gums that bleed easily when you brush or floss, and bad breath or taste. The infection is usually more advanced if you notice pus-filled areas around your gums or loose teeth. If you see any of these (especially advanced signs like loose teeth) you should contact us as soon as possible.
Obviously, the name of the game with prevention is stopping plaque buildup, mainly through daily brushing and flossing. Technique is the key to effectiveness, especially with brushing: you should gently but thoroughly scrub all tooth surfaces and around the gum line, coupled with flossing between teeth.
To find out how well you're doing, you can rub your tongue along your teeth after you brush and floss—you should feel a smooth, almost squeaky sensation. You can also use plaque-disclosing agents that dye bacterial plaque a particular color so you can easily see surface areas you've missed. You can also ask us for a "report card" on how well you're doing during your next dental visit.
Dental visits, of course, are the other essential part of gum disease prevention—at least every six months (or more, if we recommend) for cleaning and checkups. Not only will we be able to remove hard-to-reach plaque and tartar, we'll also give your gums a thorough assessment. By following this prevention regimen you'll increase your chances of not becoming a gum disease statistic.
If you would like more information on recognizing and treating gum disease, please contact us or schedule an appointment for a consultation. You can also learn more about this topic by reading the Dear Doctor magazine article "How Gum Disease Gets Started."