Posts for tag: pediatric dentistry
By Peach Family Dental Group
May 24, 2019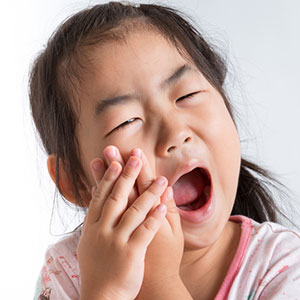 "Mom, my tooth hurts" isn't something you look forward to hearing your child say. But tooth pain is as common as other childhood ailments, so you may have to face it. Here are a few simple steps to make it easier.
First, ask your child where in the mouth it hurts and, if they can, tell you how long it's been hurting. Children's memories aren't always accurate, but you can still get a general idea that you can communicate with your dentist if you take them in.
Next, look in their mouth for anything out of the ordinary: gum swelling or bleeding, or dark spots on the teeth indicative of tooth decay. Look also for hard food particles like popcorn kernels caught between the teeth, which could be causing the pain. Gently floss between the teeth (even if you can't see anything) to remove any caught particles.
You'll also want to help ease their pain. You can apply an ice pack against the painful side of the jaw. Don't place ice directly on the skin, but use a container or cloth alternately against the jaw for a minute or so, and then away for a minute. You can also give them a dose of mild pain reliever like ibuprofen or acetaminophen appropriate for their age and weight—but never rub aspirin or other pain relievers on the gums, which tend to be acidic and can burn the skin.
Finally, you'll need to decide if you need to see a dentist and how soon. It might not be necessary with situations like the trapped food particles, but most of the time it's wise to have your dentist perform an examination for an accurate diagnosis and appropriate treatment. As to how soon, try to see the dentist immediately if the pain has continued from one day to the next or has kept your child up overnight. Otherwise, book an appointment for as soon as the dentist advises, even if the pain subsides.
A toothache at any age is never pleasant, but especially for children. Knowing these steps will help ease their discomfort and get them the relief and treatment they need.
If you would like more information on dental care for children, please contact us or schedule an appointment for a consultation. You can also learn more about this topic by reading the Dear Doctor magazine article "A Child's Toothache: Have a Dental Exam to Figure out the Real Cause."
By Peach Family Dental Group
May 04, 2019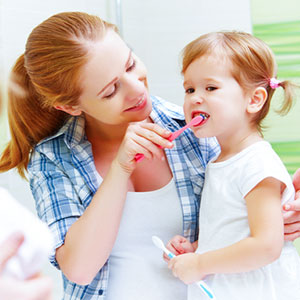 Tooth decay and developing bite problems could be major obstacles to your child's normal growth and development. Without good, preventive dental care at home and from the dentist, these obstacles could impact their health now and well into adulthood.
Here are 3 things you should do to help your child stay ahead of harmful dental problems.
Start daily hygiene early. To protect your child from tooth decay, you should begin cleaning their teeth and gums early, even before teeth appear. For your first hygiene efforts use a clean wet cloth to wipe their gums after feeding to reduce bacterial growth in the mouth. After teeth begin to erupt start brushing them with a fluoride toothpaste—a slight smear for infants and up to a pea-sized amount when they get older.
Keep sugar to a minimum. The bacteria that causes tooth decay thrive on sugar. To minimize bacterial growth, keep your child's sugar intake to a minimum by providing dental-friendly snacks and foods. Also, try to limit any sugar they eat to mealtimes rather than with snacking through the day. And avoid sending them to bed with a bottle filled with a sugary liquid (including formula and breastmilk).
Begin dental visits around age one. Dentists and pediatricians recommend regular dental visits for children starting around their first birthday. This increases the chances of detecting disease or bite problems early before too much damage occurs. Your dentist can also provide preventive measures like sealants or topical fluoride to reduce the risks of tooth decay. And early visits lessen the chance of your child developing dental visit anxiety, a phobia that could continue into adulthood.
If you would like more information on protecting your child's dental health, please contact us or schedule an appointment for a consultation.
By Peach Family Dental Group
November 05, 2018
Helping your infant or toddler develop good dental habits is one of the best head starts you can give them toward optimum oral health. But even after they've matured enough to handle hygiene tasks without you, they still need your guidance.
This is especially true in the "tween" and teen years. Although they're beginning to flex their independence muscles, they're still vulnerable at this age to peer pressure urging them to try things that, among other outcomes, could hurt their oral health.
Here are 3 areas where your input and guidance could save your older children and teens from oral health problems.
Sports activities. As children mature, they may also become involved with various physical activities, including contact sports. Years of diligent hygiene and dental care can be undone with one traumatic blow to the mouth. You can help avoid this by urging your child to wear a mouth guard during sports activity. While there are some good choices on the retail market, the most effective mouth guards are custom-created by a dentist to precisely fit your child's mouth.
Oral piercings. While expressions of solidarity among young people are popular and often harmless, some like oral piercings and their hardware could potentially damage teeth and gums. You should especially discourage your child from obtaining tongue bolts or other types of lip or mouth hardware, which can cause tooth wear or fracture. Instead, encourage them to take up safer forms of self-expression.
Bad habits and addictions. A young person "spreading their wings" may be tempted to dabble in habit-forming or addictive activities. In addition to their effect on the rest of the body, tobacco, alcohol and drugs can have severe long-term consequences for oral health. Unsafe sexual practices could lead to the contraction of the human papilloma virus, which has been linked to oral cancer in young adults. Be sure your teen understands the dangers of these habits to both their oral and general health—and don't hesitate to seek professional help when a habit becomes an addiction.
If you would like more information on helping your child develop great oral habits, please contact us or schedule an appointment for a consultation. You can also learn more about this topic by reading the Dear Doctor magazine article "How to Help Your Child Develop the Best Habits for Oral Health."