Posts for: March, 2018
By Peach Family Dental Group
March 17, 2018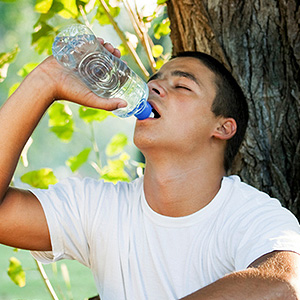 In recent decades civilization's millennia-long search for clean, safe drinking water has become much easier with modern purification methods. Today, there are few places in the United States without adequate access to potable water. And about three-fourths of the nation's tap water systems add fluoride, credited with helping to reduce tooth decay over the past half century.
But in recent years some have voiced concerns about the safety of tap water and popularizing an alternative: bottled water. Manufacturers of bottled water routinely market their products as safer and healthier than what comes out of your faucet.
But is that true? A few years ago a non-profit consumer organization called the Environmental Working Group (EWG) performed a detailed, comprehensive study of bottled water. Here's some of what they found.
Lack of transparency. It's not always easy to uncover bottled water sources (in some cases, it might actually begin as tap water), how it's processed, or what's in it. That's because unlike water utilities, which are rigorously monitored by the Environmental Protection Agency (EPA), the Food and Drug Administration (FDA) oversees bottled water production with less strenuous guidelines on labeling. Eight out of the top 10 selling brands were less than forthcoming about their water's contents in EWG's investigation.
Higher cost. According to the EPA, the average consumer cost in the last decade for tap water was $2.00 per 1,000 gallons (0.2 cents per gallon). The retail cost for even bulk bottled water is exponentially higher. It can be a costly expenditure for a family to obtain most of their potable water by way of bottled—while still paying for tap water for bathing and other necessities.
Environmental impact. Bottled water is often marketed as the better environmental choice. But bottled water production, packaging and distribution can pose a significant environmental impact. EWG estimated the total production and distribution of bottled water consumes more than 30 million barrels of oil each year. And disposable plastic water bottles have become one of the fastest growing solid waste items at about 4 billion pounds annually.
While there are credible concerns about tap water contaminants, consumers can usually take matters into their own hands with an affordable and effective household filtering system.  EWG therefore recommends filtered tap water instead of bottled water for household use.
If you would like more information on drinking water options, please contact us or schedule an appointment for a consultation. You can also learn more about this topic by reading the Dear Doctor magazine article "Bottled Water: Health or Hype?"
By Peach Family Dental Group
March 02, 2018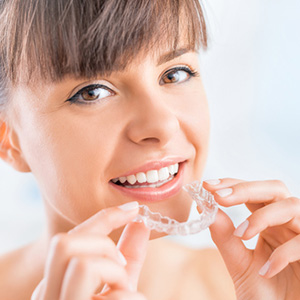 Your teen is about to embark on an orthodontic journey to a straighter, more attractive smile. But although you're excited about the outcome, you both may be steeling yourselves for a few years of "life with braces."
But maybe not—your teen may be able to take advantage of a different kind of corrective appliance: clear aligners. This 21st Century teeth movement method has a number of advantages over braces. For teens, though, there's one big one that could have a huge impact on their social life—clear aligners are nearly invisible to other people.
Clear aligners consist of a series of clear, removable, computer-generated trays based on photographs, models and x-rays of an individual patient's teeth and bite. Each of the trays is slightly different from the previous one in the series, and by wearing each one for about two weeks before moving on to the next, the aligners gradually move the teeth to the desired new positions.
Besides reducing embarrassment often associated with wearing metal braces, clear aligners have other benefits. Unlike braces, they can be removed for eating, easier oral hygiene or for rare special occasions (although for best effectiveness, they should be worn for 20 to 22 hours each day). Recent developments like added elements that help target certain teeth for movement or "power ridges" for more controlled and efficient force have increased the range of bite problems they can be used to correct.
While this means clear aligners can be used for many bite problems, in some severe cases braces and other orthodontic treatments might still be necessary. And because they're not fixed like braces (only the orthodontist can remove them) the patient must have the maturity and self-discipline to wear them consistently.
Your teen will need to undergo a thorough orthodontic examination to see if clear aligners are a viable option for them. If so, it could make the next few treatment years less stressful for both of you.
If you would like more information on clear aligners, please contact us or schedule an appointment for a consultation. You can also learn more about this topic by reading the Dear Doctor magazine article "Clear Aligners for Teens: User-Friendly Orthodontics."