Posts for: April, 2021
By Peach Family Dental Group
April 14, 2021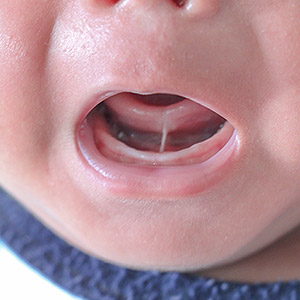 Breastfeeding is nature's way of providing complete nourishment to a newborn in their first years of life. It can also have a positive impact on their emerging immune system, as well as provide emotional support and stability. But although nursing comes naturally to an infant, there are circumstances that can make it more difficult.
One example is an abnormality that occurs in one in ten babies known as a tongue tie. A tongue tie involves a small band of tissue called a frenum, which connects the underside of the tongue with the floor of the mouth. The frenum, as well as another connecting the inside of the upper lip with the gums, is a normal part of oral anatomy that helps control movement.
But if the frenum is too short, thick or taut, it could restrict the movement of the tongue or lip. This can interfere with the baby acquiring a good seal on the breast nipple that allows them to draw out milk. Instead, the baby may try to chew on the nipple rather than suck on it, leading to an unpleasant experience for both baby and mother.
But this problem can be solved with a minor surgical procedure called a frenotomy (also frenectomy or frenuplasty). It can be a performed in a dentist's office with just a mild numbing agent applied topically to the mouth area (or injected, in rare cases of a thicker frenum) to deaden it. After a few minutes, the baby's tongue is extended to expose the frenum, which is then snipped with scissors or by laser.
There's very little post-op care required (and virtually none if performed with a laser). But there may be a need for a child to "re-learn" how to breastfeed since the abnormal frenum may have caused them to use their oral muscles in a different way to compensate. A lactation expert may be helpful in rehabilitating the baby's muscles to nurse properly.
A restrictive frenum isn't necessarily a dire situation for an infant—they can continue to feed with a bottle filled with formula or pumped breastmilk. But employing this minor procedure can enable them to gain the other benefits associated with breastfeeding.
If you would like more information on tongue ties and other oral abnormalities in children, please contact us or schedule an appointment for a consultation. You can also learn more about this topic by reading the Dear Doctor magazine article "Tongue Ties, Lip Ties and Breastfeeding."
By Peach Family Dental Group
April 04, 2021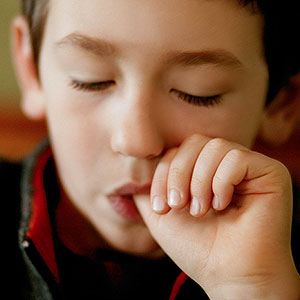 There are many things to be concerned about with your infant. Thumb sucking shouldn't be one of them—at least not yet. Practically universal among young children, the habit normally fades by age four with no real harm.
If it persists beyond that age, however, it can lead to a poor bite (malocclusion). Late thumb sucking may also have a connection with another problem—the inability of a child to transition from an infantile swallowing pattern to an adult pattern.
A baby while swallowing thrusts their tongue forward to help create a seal around a breast or bottle nipple during nursing. This normally changes about age 4, though, to a positioning of the tongue against the roof of the mouth when swallowing. But if they don't transition and continue to thrust the tongue forward, it can place undue pressure on the front teeth and cause them to develop too far forward.
The result may be an open bite, in which a gap exists between the upper and lower teeth even when the jaws are shut. An open bite can also happen with late thumb sucking, but instead of the tongue, their thumb presses against the teeth.
As to thumb-sucking, parents should encourage their child to stop the habit beginning around age 3, if they haven't already begun to do so. The best approach is to use some form of positive reinforcement such as praise or treats. The sooner the habit ceases after age 4, the lower their risk for developing an open bite.
You may also need to be alert to continued tongue thrusting while swallowing, which may still continue even after they no longer suck their thumb. In that case, your child may need orofacial myofunctional therapy (OMT), a series of exercises directed by a trained therapist to retrain the muscles involved with swallowing. This therapy could further help a child properly transition to an adult swallowing pattern.
Open bites can be corrected orthodontically later in life. But by being alert to your child's oral habits, as well as the way they're swallowing, you and your dentist may be able to intervene and eliminate or at least lessen the development of this type of problem bite.
If you would like more information on how to manage thumb sucking, please contact us or schedule an appointment for a consultation. You can also learn more about this topic by reading the Dear Doctor magazine article "How Thumb Sucking Affects the Bite."