Posts for tag: cosmetic dentistry
By Peach Family Dental Group
August 17, 2018
You may be able to slow the aging process with healthy habits but you can't stop it. Every part of your body will change, including your teeth and gums. And even with great dental hygiene and care, there are at least two aging outcomes you may not be able to avoid: discoloration and tooth wear.
Fortunately though, we have ways to counteract these effects and help you enjoy a much younger-looking smile. These techniques range in complexity and cost, but when tailored to your individual situation they can make a world of difference and restore your confidence in your smile.
Brightening teeth that have yellowed with age can be as simple as undergoing teeth whitening. The bleaching solution in this procedure (performed in the office or at home with a prescribed kit) can minimize enamel staining built up over the years. It can even be performed with some control over the level of desired brightness. Although whitening isn't permanent, with proper care and regular touch-ups you can keep your youthful, dazzling smile for some time.
Tooth whitening, however, may not be enough in some cases of discoloration. If so, you can gain a bright new smile with porcelain veneers or crowns. A veneer is a thin layer of tooth-colored material bonded to the front of a tooth; a porcelain crown completely covers a tooth and is usually cemented onto it.
Normal tooth wearing can also affect the appearance of older teeth, making them look shorter and with less rounded edges than younger teeth. Veneers and crowns can be utilized for this problem too, as well as enamel shaping with a dental drill to minimize those sharp edges and project a softer, younger appearance. In extreme cases, surgically reshaping the gums can give teeth a longer and a more natural look.
These are just a few of the ways we can address these two aging problems, as well as others like receding gums. Depending on your situation, it's quite possible we can help you take years off your smile.
If you would like more information on cosmetic answers to aging teeth, please contact us or schedule an appointment for a consultation.
By Peach Family Dental Group
June 18, 2018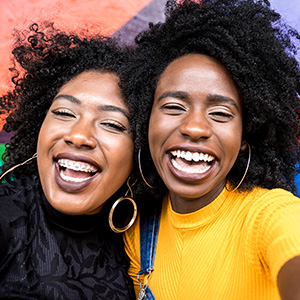 June is the month when lots of important events happen—like weddings, graduations, and family get-togethers. When the weather turns balmy and the days get longer, it's the perfect time for a celebration…and today it's easier than ever to capture those special moments in pictures that will be treasured for years to come. Are you ready for your close-up?
Both professional photographers and dentists want to help you look your best when you're smiling for the camera. Here are a few suggestions from both kinds of pros for capturing a great-looking smile.
Tilt your head just a bit
Instead of looking straight at the camera, try turning or tilting your head slightly. This often presents a more flattering angle, and can hide small facial asymmetries. If your face has a "good side" (you can check by looking in a mirror), be sure to make it visible. But even if your head is tilted or turned, your eyes should be looking at the camera.
Moisten teeth before the shutter clicks
A sparkly smile is the most appealing one. Just before the picture is snapped, run your tongue over your teeth to give them a little extra shine. Highlights in the teeth, lips and eyes add liveliness to your portrait.
Relax—Don't clench your teeth!
It's better to smile naturally—perhaps with teeth slightly parted, or lips in a more relaxed position—than to force yourself to make an artificial-looking grin. Try recalling things that make you joyful, or think of people you care about, and chances are your natural smile will shine out.
Have your teeth professionally cleaned at the dental office
Before the big event, you can ensure that your smile looks its best with a professional cleaning at our office. This treatment removes layers of plaque and tartar on visible tooth surfaces, as well as between teeth and under the gumline. It not only makes teeth look their best, but it's also an effective way to fight tooth decay and gum disease. And while you're here, it's the perfect time to talk about any cosmetic issues that may be troubling you about your smile. With treatments like teeth whitening, cosmetic bonding or dental veneers, we can help you get the smile you've always wanted.
If you would like more information about professional teeth cleaning or cosmetic dentistry, please call our office to schedule a consultation.